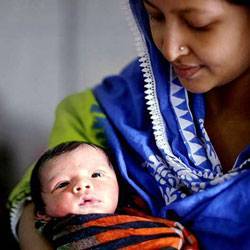 Best Baby Care Home Service Providing Company in Dhaka Bangladesh | Nursing Home Care BD | For most Bangladeshi households with young children, childcare is a pressing concern. Whether or not it is a single-parent home or a household where both mother and father are working, childcare means a major problem in terms of security, child growth up and of course cost streaming. That's why it's become a major issue, particularly for a working mother. Because after long maternity leave, parents have to decide what action can taken that can make more sense of their childcare. Best Baby Care Home Service Providing Company in Dhaka.
So, if you are in this position, we know how much overwhelmed you are about your baby care? Also, you might think your too-large portion of salary would go towards childcare expense if you are planned to give him in a cheap daycare center in Dhaka. But how about if you can get nanny care or neonatal nurse service at your home. Your baby would grow up in a home environment just like you would with him all the time.  However, now you are concern about cost as already you know nanny service in Dhaka is expensive.
But from now onwards no more worries about baby care! Because nursing home care (One of the best home care service provider for elderly people and also medical equipment provider) has come up with new baby care home service Dhaka B.D., particularly for childcare at home. To know more details, please call 01711229119 To know more details.
So, how do we handle the home nurse for a baby? It's not at all a simple process, but we really made it easy and affordable for you by providing a sufficient number of the professional and well-trained caregiver as per your valuable requirement.
So, let's meet with our most renowned Nursing Home care baby care services in Bangladesh.
Our record:
We have been serving baby care home services pretty much 2 years before. Our unmatched success rate and satisfaction guarantee have attained our company the "Best Baby Care Home Service Dhaka B.D." Award by other home care agency.
Since 2016, we've got set the quality for excellence and placed over 300 baby care services in Bangladesh in the homes across the country. Our agency is a fully licensed firm where we always represent totally trained professionals with an exceptional level of talent in caregiving.
Best Baby Care Home Services in Dhaka Bangladesh
We both full time and part-time baby care at home facilities. We also encourage and assist all the parents in finding out dedicated, qualified, professional nanny care or home nurse for baby and household nurse they need. Best Baby Care Home Services in Dhaka Bangladesh
How we treat you?
Our Baby Care Home Service is the largest, most trusty nanny agency in Dhaka, Bangladesh. Our dream is to serve a clientele business that deserves absolutely the best for his or her families. When you start relying on the U.S., particularly our Service, you'll expect dependability reliability, extremely high personalized and immediate action service. Thus we are the best professionals in this field. The other facility includes:
Our phone calls answered promptly
We have an online file processing system
Our nurses or caregivers are the best and best guaranteed.
We maintain a double shift (Day and Night separately) for cutting cost.
We are open for 24/7 hours.
Our staff dedicated, passionate, and caring professionals can deliver what we truly promise
Confidentiality could be a prime priority